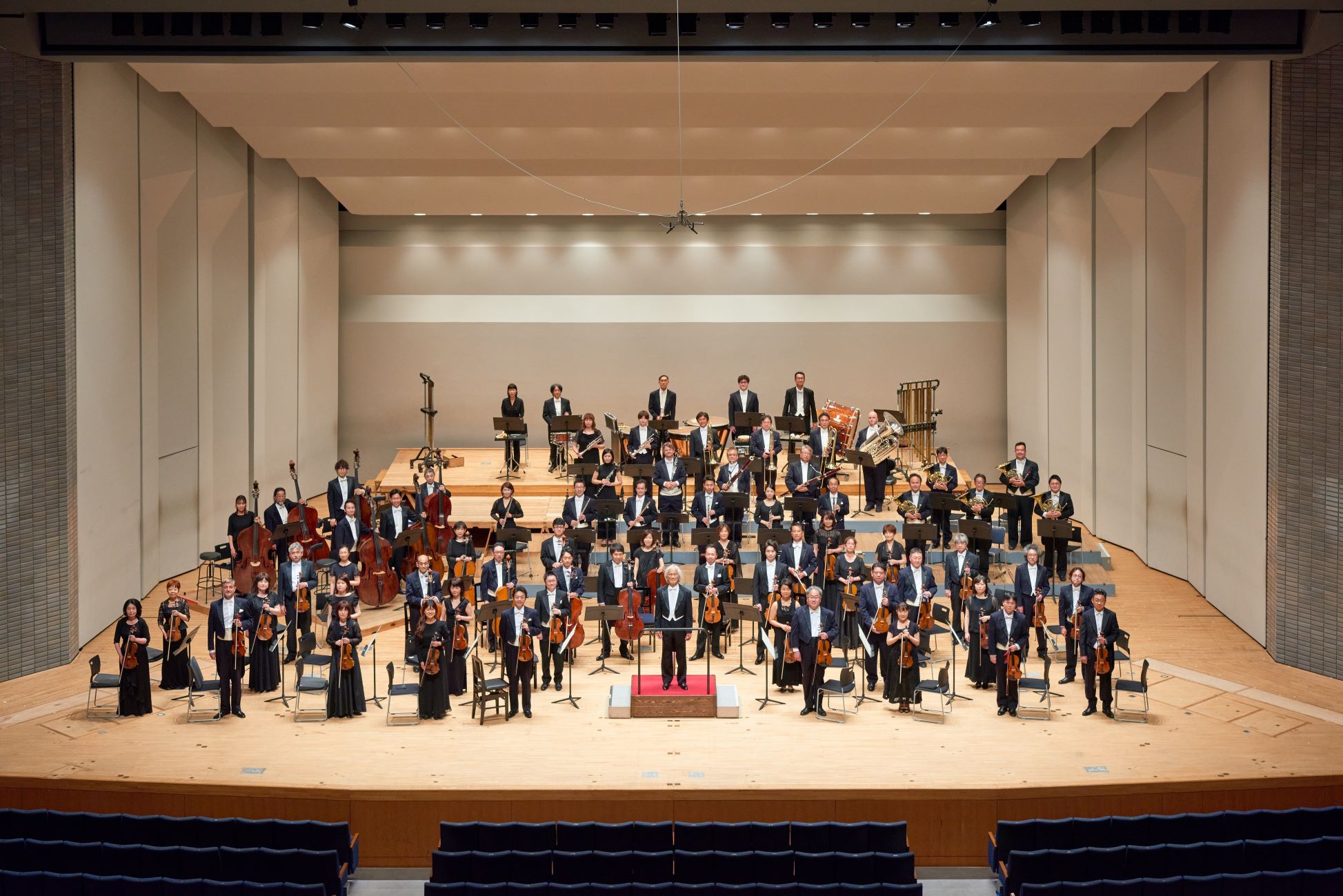 Sendai Philharmonic Orchestra
In 2018, Sendai Philharmonic Orchestra celebrates 45th anniversary and started new chapter.
Taijiro Iimori took over as Chief Conductor and continue attractive programs with Sendai Philharmonic Orchestra. Ken Takaseki joined newly-built title as Resident Conductor and Kosuke Tsunoda joined as Conductor.
The Sendai Philharmonic Orchestra was formed under the name of Miyagi Philharmonic Orchestra in 1973 as an amateur community-based orchestra. It held its first subscription concert the following year. Following its incorporation as an incorporated association in 1978, the Miyagi Philharmonic Orchestra became a full-fledged professional orchestra and attracted attention for its remarkable growth under the guidance of the late Yasushi Akutagawa, who served as General Music Director between 1983 and 1989, Yuzo Toyama (Music Director) build-up basic ability between 1989 and 2006. The orchestra was renamed the Sendai Philharmonic Orchestra their home city in 1989, and after converting to an incorporated foundation in 1992, it continued to forge great achievements, including winning the Kahoku Culture Award in 1999 and their first overseas concert tour, which took in Vienna, Rome, and three other cities in Europe in 2000. From 2006, Pascal Verrot (Chief Conductor) blossomed with various program and activity until March 2018.
Sendai Philharmonic Orchestra presents 9(nine) subscription concerts for different programs each year. In April 2016 Sendai Philharmonic Orchestra celebrates 300th subscription concert led by Pascal Verrot (Chief Conductor) featured Berlioz's "Symphonie fantastique" and "Lelio, ou le retour à la vie". Sendai Philharmonic Orchestra perform around 110 concerts a year, including subscription concert, school concert and others. At the Sendai International Music Competition, Sendai Philharmonic Orchestra have been serving as the host orchestra since 2001. Also Sendai Philharmonic Orchestra have been a central role in the Sendai Classical Music Festival, which is widely known as "Sen-Cla," and thus are contributing greatly to the promotion of music culture in their home city, Sendai.
In March 2011, Great East Japan Earthquake compelled the orchestra to cancel most of its concerts for a few months, members have been cooperating with the Center for Recovery through the Power of Music and—under the slogan "Linking hearts, Joining hands"—the orchestra is engaging in various activities aimed at developing and maintaining strong ties with residents affected by the disaster through music. In recognition of these dedicated activities, they received the Western Classical Music prize at the 2011 ExxonMobil Music Awards as well as the Akeo Watanabe Music Foundation Special Support. In March 2013, they presented concerts in Moscow and Saint-Petersburg in Russia upon request of the Japan Foundation to represent the disaster-stricken areas to express Japan's gratitude for support extended by Russia and the world after the disaster. During these concerts, the orchestra was also able to show how they had been supporting disaster victims through music in areas where the reconstruction is underway, and they thus fulfilled this important mission successfully.
Official Website: https://www.sendaiphil.jp/