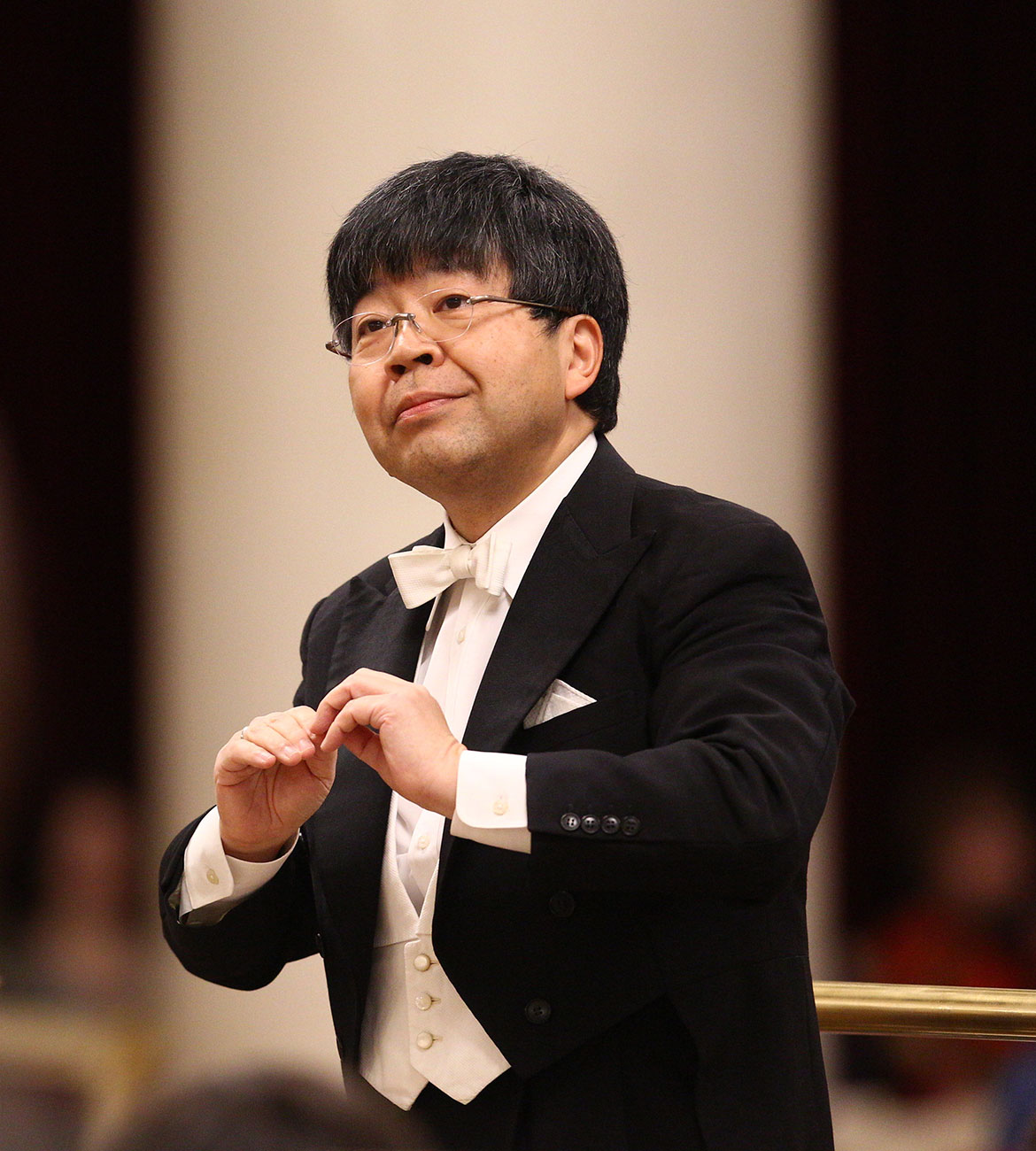 ©Stas Levshin
TAKASEKI Ken
Conductor, Piano Section
Ken Takaseki was born in Tokyo. He started to study piano and violin early in his childhood. He won the Karajan Competition in Japan in 1977 while he was still a student at the Toho Gakuen School of Music. After graduating from the school the following year, he left Japan to study at the Berlin Philharmonic Orchestra Academy (Karajan Foundation) and worked as an assistant to Herbert von Karajan till 1985. During the summer of 1981, he studied under Leonard Bernstein and Seiji Ozawa at Tanglewood Festival. In the same year, he made his debut in Europe with the Bergen Symphony Orchestra in Norway.
In 1983 he won the 2nd prize at the Nicolai Malco Competition for Young Conductors, and in 1984 he drew attention when he won the Hans Swarowsky Competition. In January 1985, he made his debut in Japan with the Japan Philharmonic Orchestra at its subscription concert. In 1991 he conducted the NHK Symphony Orchestra at its subscription concert and received outstanding critical acclaim. In 1994, he toured around Europe with the Gunma Symphony Orchestra with great success performing in various places and on such occasions as Prague Spring International Music Festival and Festival of Vienna.
Besides many orchestras in Japan, he has performed with Vienna Symphony Orchestra, Oslo Philharmonic Orchestra, Bergen Symphony Orchestra, Denmark National Radio Symphony Orchestra, Deutche Symphonie Orchester Berlin, Klangforum Wien, and WDR Symphonie Orchester Koeln among others. In 1994, he toured around Europe with the Gunma Symphony Orchestra with great success. In February 2013 and April 2017, he conducted a subscription concerts of the St.Petersburg Philharmonic Orchestra, bringing out a full, rich sound from this distinguished Russian orchestra and receiving high praise from the audience and orchestra members.
His opera conducting career includes Mozart's DIE ZAUBERFLÖTE (1990, 2007), LE NOZZE DI FIGARO (1991) and Monteverdi/Henze's IL RITOMO d'ULISSE IN PATRIA (2009) with Tokyo Nikikai, Verdi's FALSTAFF at a subscription concert of Gunma Symphony Orchestra (2003), Britten's CURLEW RIVER at Sumida Triphony Hall (1997) and PETER GRIMES with The College Opera House Osaka (2013), Dan's YUZURU at New National Theatre Tokyo (2011) and Mozart's Cosí fan tutte at New National Theatre Tokyo Opera Studio (2017).
Takaseki has earned the profound trust of artists. At the Pierre Boulez Kyoto Prize Workshop in 2009, for example, he received high praise from Pierre Boulez and such world-renowned soloists as Mischa Maisky, Itzhak Perlman, and in particular Martha Argerich, for his performances over the course of three concerts including the Japan premiere of a work by Rondion Schedrin.
He was Music Director and Principal Conductor of the Hiroshima Symphony Orchestra (1986-1990); Conductor of the New Japan Philharmonic (1994-2000); Principal Conductor of the Century Orchestra Osaka (1997-2003); Music Director of the Gunma Symphony Orchestra (1993-2008); Resident Conductor of the Sapporo Symphony Orchestra (2003-2012); Principal Guest Conductor of the Kyoto Symphony Orchestra; and currently he is a Principal Conductor of the Tokyo City Philharmonic Orchestra, Resident Conductor of the Sendai Philharmonic Orchestra, Music Adviser of the Shizuoka Symphony Orchestra, Professor for conducting department, faculty of music of Tokyo University of the Arts and Principal Conductor of the Geidai Philharmonia Orchestra, Tokyo.
He won Akeo Watanabe Foundation Music Award in 1996, Hideo Saito Memorial Fund Award in 2011 and Suntory Music Award in 2018.
In March 2019, he conducted Dan Ikuma's opera "Yuzuru" at Vladivostok and St. Petersburg, as part of the "Japan Year in Russia".