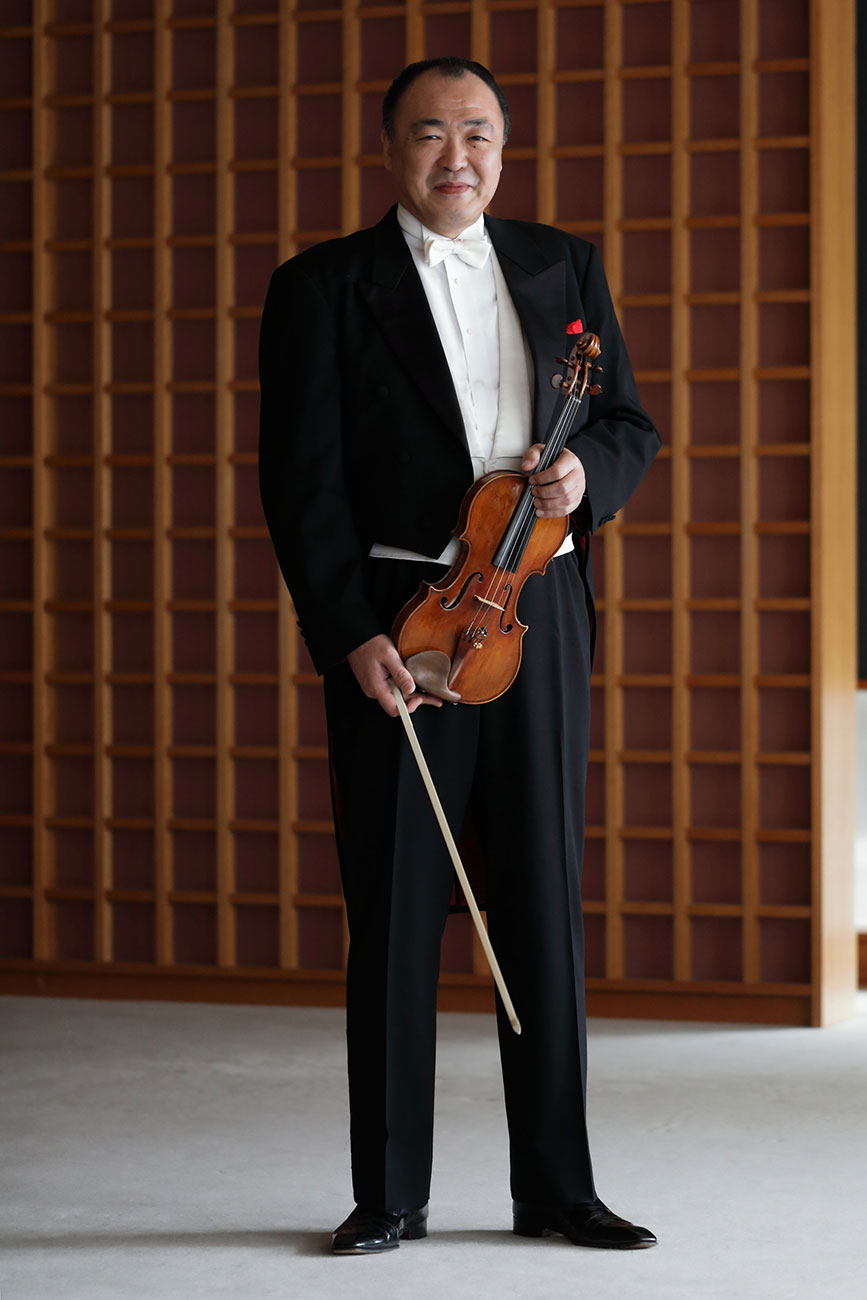 ©中倉壮志朗
TOYOSHIMA Yasushi
(Japan)
Jury Member, Violin Section

He studied under Toshiya Eto and Angela Eto at the Toho Gakuen School of Music. While studying at Toho Gakuen, he began performing as a soloist on both the violin and viola, and as a concertmaster and a chamber musician.
In 1986, at the same time as his graduation from the university, he was appointed a principal concertmaster of New Japan Philharmonic, and made his debut as a professional musician.
He is currently the honorary concertmaster laureate of New Japan Philharmonic, and the concertmaster laureate of the Kyushu Symphony Orchestra, and the concertmaster of Hyogo Performing Arts Center Orchestra, and also serves as the special honorary friendship concertmaster for the City of Kyoto Symphony Orchestra. He has been earning the unwavering trust of the conductor, Seiji Ozawa, in 30 years and has been serving as the concertmaster of the Saito Kinen Orchestra and the Mito Chamber Orchestra.
In recent years, as a soloist, he is playing violin concertos by some modern composers such as Korngold, Akira Miyoshi, and Bartók at orchestras' subscription concerts.
In 2019, he started his new performing activities based in Kansai area, and has been giving performances such as a recital celebrating 20th anniversary of Alti Quartet and concerts of playing Beethoven's complete violin sonatas with pianoforte. In the same year, he performed Bach's complete violin works in three concerts in Kyoto, and had received the AOYAMA Award at the 29th Aoyama Music Awards as his achievement of the concerts.
In 2021, the 35th anniversary year of his debut, he performed Bartók Violin Concerto No. 1 and No. 2, and Viola Concerto all at once with Hyogo PAC Orchestra.
Also he dedicates himself to music education for young musicians at Kyoto City University of Arts, Seiji Ozawa Music Academy, and Arkas Sasebo Junior Orchestra.
He was the recipient of the Muramatsu Prize and the first Idemitsu Prize in 1991 and the Cultural and Education Ministry's New Artist of the Year Award in 1992 and the Hyogo Cultural Award in 2013. He is a professor at Kyoto City University of Arts, and also lectures at Toho Gakuen University and Graduate School.