Interviews
Interview with Ms. AOKI Naoka,
3rd Prizewinner of the Violin Section at the 6th SIMC
Interviewed by: MATSUMOTO Manabu (Music Critic)
interviewed : 20180120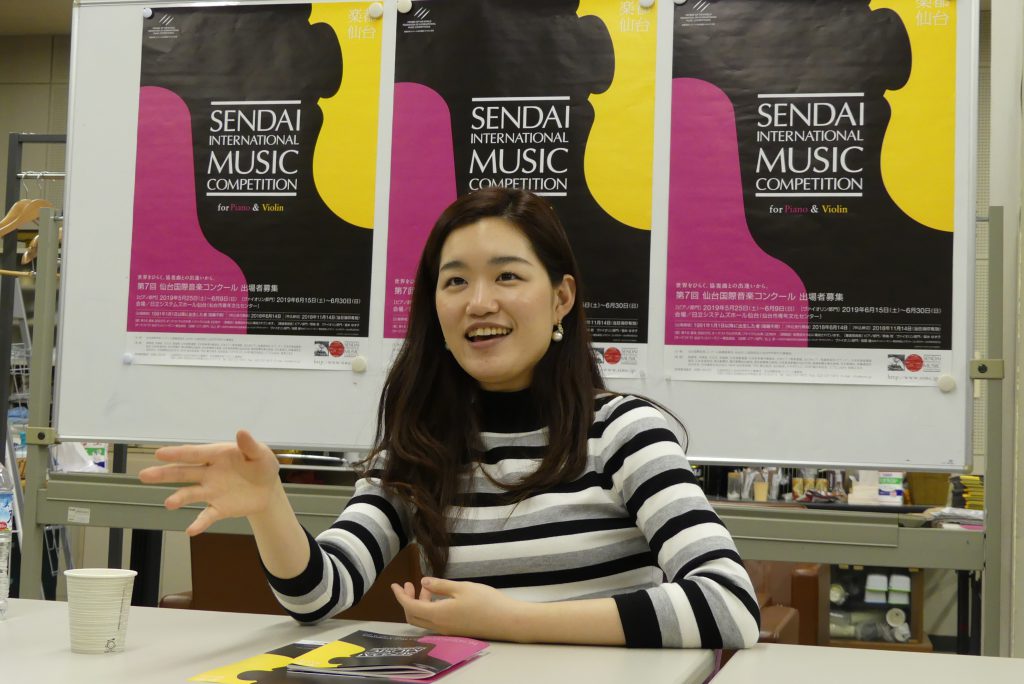 Naoka Aoki won the 3rd prize at the 6th Sendai International Music Competition (SIMC), Violin Section. Her performance at the competition was in a very high level for every pieces, and this time she showed another big step forward with her sharp playing of Khachaturian's Concerto with the Sendai Philharmonic Orchestra conducted by Ken Takaseki. She really persuade us that she is a promising, gifted musician.
Thank you for the wonderful concerto performances for 2 nights. I heard that this is your second concert at Sendai after the Sendai Classical Music Festival (SENCLA) last October.
Yes, it is, and it was my first concerto performance at Sendai after the competition.
How did you find the concert hall and the orchestra?
I was given the same dressing room as the preliminary stage at the competition, and all my memories of those days came back immediately. Everyone from the orchestra was very generous as they were at the competition so I felt a great relief playing with them. Especially Mr.Mizone from the Horn section is the senior member of the Tokyo Junior Orchestra Society. Last night I even went to dinner with the members of the orchestra. I am so grateful that they played the encore piece (Kreisler) with me following my request. I felt the sound was resonating more in the hall than at the time of competition. I would love to play Schumann Concerto next time and I told the office member of the orchestra about it.
Have you visited the scenic places in Sendai?
Not yet! First I was thinking about visiting Akiu-Onsen (hot spring) for one more night, but unfortunately it turn out that I have to go back today,,,. But ! I did had a chance to visit Matsushima. Since long, I had a strong feeling for Sendai. It is not just because of the competition, but there are so many interesting projects going on there. I felt a bit sad that I didn't had a chance to perform here, and finally I got an opportunity after being the finalist of the competition. I am really happy to be invited by the SENCLA and Sendai Philharmonic Orchestra. City of Sendai is full of green, and full of delicious foods!
You have experience several competition including the Long-Thibaud-Crespin Competition before coming to Sendai. What was the position of the 16th SIMC in yourself?
My answer might be same as many other people who attended SIMC. There is no other competition which allow us (or make us ?) to perform so many concertos. Also as the period of the competition is long, the contestants will have an opportunity to build a relationship with the host-family and also with the local community. The people from Sendai are so warm and the city itself has such a cozy atmosphere.
Then personally, do like competition?
If yes or no, then I would say "No, I do not like it". Winning the competition has never been the priority for me. Advantage of competition is that it will make you study a lot of repertoire with good concentration in a limited period. You have to think quite intensively how to perform in the competition properly with your own interpretation of the pieces. The most important thing is the process to the competition and whether you can achieve a significant growth after experiencing the competition.
Don't you think that the competition gives you an opportunity to meet the artists from the same generation and to receive good stimulation and inspiration from them. There might even be some collaboration in the future.
Definitely. Specially, SIMC has 2 department, violin and piano. It would be really nice, if we can find a new collaboration.
Who would be your mentor, Prof. Masafumi Hori?
Yes, he was such a big help for me on the way of developing myself as a violinist. I respect him not only as an artist but also as a person. He really cares about technique and has a very wide knowledge, but most of all his is so sincere and faithful to music. I also have to mention Prof. Mayumi Fujikawa and Prof. Ana Chumachenco. And I also love to be criticized by Prof. Yuzuko Horigome.
Why did you decide to study in England?
I first wanted to study under Prof.Chumachenco. Unfortunately it did not work out, and my friend in England, who is a cellist, invited me to England. So first I started to study under Prof.Fujikawa privately for the first 3 years during my bachelor degree and then continued to study with her at The Royal Academy of Music as a graduate student there.
And now?
I came back to Japan at the end of 2017 after graduation, and I will go to the university in Munich from October this year.
Recently there are some violinists who pursuit two career, concert master and a soloist, as Svetlin Roussev and Andreas and Yuki Manuela Janke. They are the winner of the SIMC. Are there any possibility that you might take a same path?
It will be a nice challenge for me. Soloist has a lot of freedom but lonely. I personally love to play an ensemble with other people so I would be really nice if I can play as a concert mistress.
At the 7th SIMC, the contestants will be asked to play in the orchestra sitting on a seat of the concert-master. Please give some advice to the contestants of the coming competition.
It would be presumptuous of me to give some advice.
What I can say is that it is worth trying. Otherwise you won't have such a wonderful opportunity to practice and perform so many concertos. Also it is quite important to keep yourself in a good balance, mentally and physically. Although I know it is not easy, please do not be afraid that you might not have enough time to practice such a large repertoire. You should never think like; "I really can't do it!" or "It's impossible!" If you are timid everything might turn to a wrong direction. So please keep playing even you make a mistake. I recommend the contestants to practice assuming how to react under unexpected situation. Anyway just enjoy your performance, the musician from the Sendai Philharmonic Orchestra are very nice people.
Yes, it's not easy and requires a lot of practicing. Never be afraid to fail.
I heard that your CD will be release this spring.
Yes, it is coming out. It is a live recording of the concert at Hakuju-hall (Tokyo) last October. It includes Waltz from "Der RosenKavalier" by R.Strauss, which I performed also at SENCLA, and Liebesfreud (Love's Joy), Praeludium and Allegro in the style of Pugnani, and Marche Miniature Viennoise (Miniature Viennese March) by F.Kreisler. Also Schӧn Rosmarin (Lovely Rosemary) with piano accompaniment which I play as an encore with the Sendai Philharmonic is included. This is my official debut album.