Interviews
Interview with Mr. TAN Xiaotang,
1st Prizewinner of the Piano Section at the 2nd SIMC
Interviewed by: MICHISHITA Kyoko (Music Critic)
interviewed : 20151003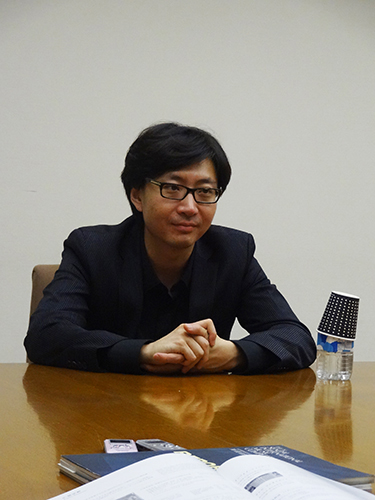 Currently an associate professor at the Central Conservatory of Music, Beijing, TAN Xiaotang won first prize in the piano section at the 2nd Sendai International Music Competition. We held an interview with Mr. TAN when he came to Japan to perform in the Sendai Classical Music Festival 2015. Although he utters very few words in this interview, his character is revealed through whatever he says.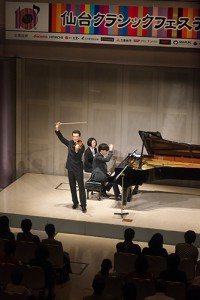 I listened to you perform with Svetlin ROUSSEV at the Sendai Classical Music Festival (Sencla).
I was moved by your performance of the first movement of the Franck Violin Sonata which made me feel as if I was looking at a painting.
Thank you for your kind words.
How many times have you come to Sendai?
I believe I have come to Sendai at least 10 times.
Are there any locations in Sendai that stand out in your mind?
The location which stands out most in my mind is Hitachi Systems Hall Sendai. Another location that I was impressed with was Kotodai Park and the surrounding area. Since the park is located close to hotel I was staying at, I would take walks after performances although it was always dark by the time I was able to leave.
What are your favorite things about these locations?
I have performed at Hitachi Systems Hall Sendai more than at any other hall in Japan. I am very happy to have also come to know the staff. I have a lot of really great memories from each location.
How about Kotodai Park?
During the 2nd Sendai International Music Competition, I stayed at a hotel next to Kotodai Park. There was an advertisement for the competition on the wall of a building across from the hotel, and I can clearly remember this scene even today. When I stayed at the same hotel when I visited Sendai different times after the competition, I remembered about the advertisement that was there which made me quite emotional. Since I have a very tight schedule whenever I visit Sendai, I am hardly ever able to go out and explore the city. This means that I have had few opportunities to go out and enjoy myself. I guess my experiences have been limited to walking around Kotodai Park and the area near the hotel as well as practice sessions at Hitachi Systems Hall Sendai (smiles).
Next, we would like to hear what you have to say about the Sendai International Music Competition. Did your music career change at all after winning the competition?
After winning the competition, the amount of performance opportunities that I had suddenly increased, especially in regard to orchestral appearances which greatly grew in number. I always cherish each and every performance opportunity that comes my way. Among the different ways of moving my career forward was to carefully further develop new performance opportunities once I was offered them. Each time I performed I would accumulate knowledge and experience to be used for music. In other words, each performance made my music grow.
By the way, I know that you studied under Professor Gerhard Oppitz. Did you study with him in Munich?
Yes, I studied with him in Munich. After winning the competition, I studied at the Hochschule für Musik und Theater München from 2005 to 2007.
It is known that Professor Oppitz hardly takes any new students.
At first I sent him an E mail saying that I would like to meet. So I went and played for him for One and a half hours . Immediately after the lesson, he said, "Thank you for the recital." By actually taking a lesson with him, I could feel that there was a very strong connection there. This is what eventually led to me becoming his student.
As you are probably aware, Professor Oppitz is a busy performer. Whenever he had time, however, he would always listen to my playing. As a result, I thought that I was more tired than he was (laughs). He teaches lessons with passion. He doesn't say "Play it like this." Rather than giving me a task, he would tell me to discover for myself what I wanted to do with the music. Nothing made me happier than being able to study right under such an experienced teacher like Professor Oppitz.
You are currently an associate professor at the Central Conservatory of Music, Beijing.
I have been teaching musicians from the next generation at my alma mater since 2008 when I was 29.
How many students do you have at the conservatory?
I have taught over 20 students altogether since I started teaching at the conservatory. I currently have 10 students that are taking lessons with me at the school.
I am sure that you were also a contestant in a variety of other competitions. How do you think the Sendai International Music Competition differs from other competitions?
I think that young musicians around the world most likely feel that the Sendai competition is easy to participate in. For example, contestants are able to perform in their best condition in accordance with their schedules. Various preparations are made by competition management to make things easier for contestants. The volunteers and management staff in particular are warm hearted and kind, making it natural for people to attend the competition thanks to its friendly atmosphere.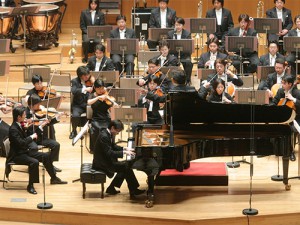 How did you feel about the required pieces?
For contestants with little performing experience, performing with orchestra is a rare experience. In other competitions, contestants only perform a concerto once in the final round. However, since competitors in the Sendai competition are able to play a concerto with orchestra in the early stages, I think it is a really great learning experience particularly for young contestants who do not have much performing experience. I played with a string quintet in the elimination round during the 2nd Sendai International Music Competition. In other words, this means that the jury was looking at how contestants play chamber music in addition to solo pieces and concertos. I have hardly seen any other competitions in which contestants play so many types of music, so one can say that this is one major feature of the Sendai competition.
Do you have any advice for young musicians who want to enter the Sendai International Music Competition?
It doesn't matter if you win or lose or where you rank in the competition. By entering the competition, you will be able to build and gain experience. Therefore, I recommend that people really throw themselves into the challenge of participating in the competition.
You mean that that the experience that you gain from participating in the competition is important, right?
Exactly. I should also mention that Sendai is a beautiful city, the people of Sendai are very kind, the competition staff is full of passion, so you will be treated kindly during the competition.
Finally, please tell us what kind of musician you are striving to become.
My goal is to become a musician like Professor Oppitz. This is because he admires many beautiful things the world has to offer, not only music. This is something I aspire to, something I think is really great. He has taught me many things, not just about piano and music. Although very difficult, I want to use all my energy to become a performer like Professor Oppitz.