Interviews
Interview with Mr. Giuseppe ANDALORO
Interviewed by: MICHISHITA Kyoko (Music Critic)
interviewed : 20151004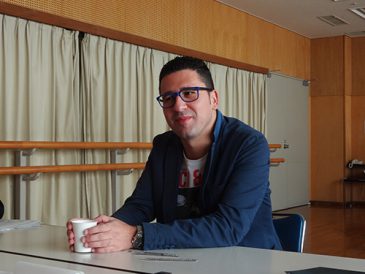 Giuseppe ANDALORO won first prize in the piano section at the 1st Sendai International Music Competition in 2001. This marked the beginning of several wins for Mr. ANDALORO, including the London International Piano Competition and Ferruccio Busoni International Piano Competition. We were able to sit down with Mr. ANDALORO for an interview in Sendai to learn more about this man whose career transcends musical genres, performing everything from Renaissance music to contemporary music as well as rock and other styles of music.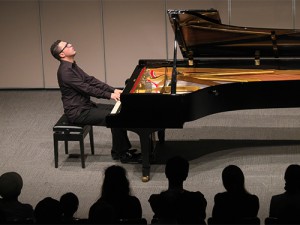 It has already been 15 years since you won first prize at the 1st Sendai International Music Competition. Did that victory change your performing career in any way?
Winning first prize in Sendai became a major goal for me immediately after I decided to enter the competition. Since I was 19 at the time, I had absolutely no idea what winning first prize would lead to. My ideas about music and life ended up changing drastically because of it. In addition to solo concerts, that success led to many performance opportunities in Japan, including performances with orchestras such as the Sendai Philharmonic Orchestra, chamber music concerts, and a duo collaboration with Mr. NISHIE Tatsuo (former concertmaster of the Sendai Philharmonic Orchestra). In addition to expanding my performance career, that win also provided me with opportunities to discover a new world. Taking on the challenge of competing in the Sendai International Music Competition also opened the door to Asia. Since I knew absolutely nothing about Asia at that time, I made many shocking discoveries and had many shocking experiences (laughs). So winning the competition was also important in that regard.
Shocking experiences?
I mean that I was surprised by everything. Back then, I was not accustomed to travelling outside Italy. Everything in Asia seemed special, and I was surprised by things that differed greatly from those in Italy. For example, food, how people talk, their attitudes, and how clean the streets were. One thing that particularly surprised me were the high prices! I really could not tolerate such high prices. However, I should say that things in Milan are now more expensive than in Japan. I was also surprised by the electronic toilet seats (washlets). I had never seen one before and I also had no idea how to use them.
How was the Sendai International Music Competition overall?
I felt that the competition was run in a perfectly organized manner and that everything was always on time and on schedule.
Please tell us about your most memorable experiences during the competition.
I clearly remember how I performed in all the rounds at the competition. I remember being very nervous during the elimination round and making a big mistake before my performance. I felt very tired right before I performed in the elimination round, so I bought and drank an energy drink that people had recommended. However, the drink made my heart race and I had no idea what to do about it. Right after this I played a Chopin etude at a really fast tempo, perhaps too fast. Although I felt disappointed thinking that I definitely be eliminated from the competition, I ended up successfully moving onto the next round. In the semifinal round, which was the next round, I performed the Ravel Piano Concerto. Unfortunately, however, I was struck with a fever that day and could not hear with my left ear. It was a horrible situation since a pianist uses their left ear to listen to what the orchestra is doing. Moreover, it was my first time playing this piece, but somehow I played it through to the end despite the really hard time I was having. For the final round, performers were to play one piece out of two which they had selected. I selected Liszt Piano Concertos No. 1 and 2. Up until then I had never performed Concerto No. 2 but was more than able to play Concerto No. 1 since I knew it so well. Unfortunately I ended up having to play Concerto No. 2 as a result of a drawing. However, I played it very well and ended up winning the competition.
Liszt's Piano Concerto No. 2, which I performed at the competition in Sendai, is a musical work that changed my future dramatically. This is because I also performed it during the London International Piano Competition one year later and four years later during the Ferruccio Busoni International Piano Competition and ended up winning both of those competitions.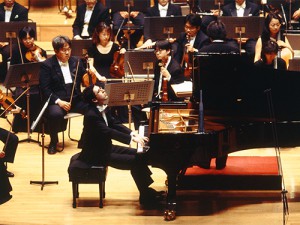 You certainly experienced a lot during the competition. You had talked about required pieces for the competition. What did you think about those pieces?
They differed greatly from the pieces required for the 6th Sendai International Music Competition which will be held next year in 2016. Contestants were required to play a piece by Mozart in the elimination round of the first competition. I remember playing one etude each by Liszt, Chopin, Debussy, and Rachmaninov. I thought that this was a very good combination of composers. The elimination round etudes listed were good works for comparing the techniques and talent of the contestants. Contestants were not able to move onto the next round if they were unable to demonstrate their abilities. However, artistry is really emphasized when performing works by Mozart. For example, his works are to be played with a certain type of phrasing and in a certain style, and those must be demonstrated through understanding, interpretation, creativity, etc. As a result, the combination of required pieces in the elimination round was well balanced for demonstrating both technical and artistic abilities of the contestants.
In next year's competition, contestants have more freedom in choosing pieces to perform. Since it is necessary to compare various performance factors, I think judging will be difficult. I feel that the way jury members understand and interpret pieces, their individual tastes, preferences, etc. are deeply reflected in how they compare performances given by contestants.
Please give some advice to young artists that are considering entering Sendai International Music Competition.
It goes without saying that practice is most important. In addition to this, I want them to play pieces for the competition that they like. As students, musicians study music under the guidance of their teachers, school faculty, etc. However, I feel that it is also important to freely select pieces on one's own. I would practice pieces recommended by my teacher for the elimination round but ended up playing different pieces once I worked out that they are not suitable. If there is a piece that they like, I am confident that they will be able to play it the best they can. Today, the music world is changing very quickly, and I feel that there is a demand for young musicians to grow as much as possible early on. I want them to think about what suits them in the music world and to find pieces that they like.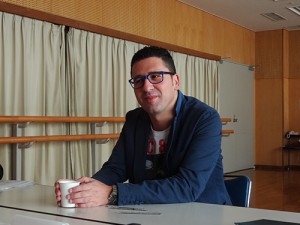 By the way, your musical activities transcend genres. Please tell us about this.
Recently I am also involved with arranging and other musical activities. I also like progressive rock, so I give concerts incorporating everything that I am doing musically, and want to keep working in the fields of jazz and improvisational performance. Classical music requires performers to always follow conventions, rules, and what is written on the page. However, I want to be an open minded musician that is able to move beyond the score, continually pursuing something deeper than the score can provide while maintaining my individuality. For example, while Friedrich Gulda was a pianist, he sought after developing his musicianship in different areas, such as improvisational performance and jazz, without restrictions. I think this kind of approach is great.
On the other hand, you are also active in the area of Renaissance music.
The Renaissance originated in Italy with many great period composers, including Gabrieli, Merula, Frescobaldi, and Monteverdi. I have really been fond of their music since I was a child. Around two to three years ago, I released a CD titled Cruel Beauty through Sony Classical. It is solely a collection of keyboard pieces from the late Renaissance and the early Baroque period, and I think there isn't another CD out there quite like this one that we put together. Their music also allows for improvisation which is a part of it that I am really attracted to. The key to improvisation is definitely imagination!