Interviews
Interview with Mr. Svetlin ROUSSEV,
1st Prizewinner of the Violin Section at the 1st SIMC
Interviewed by: MICHISHITA Kyoko (Music Critic)
interviewed : 20151003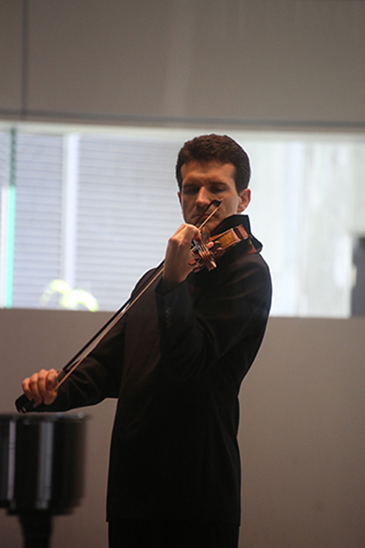 Born in Bulgaria, the acclaimed violinist, Svetlin Roussev, is currently living in Paris, where he is a professor at the Conservatoire National Supérieur de Musique et de Danse de Paris and concertmaster of the Orchestre Philharmonique de Radio France. He is also served as concertmaster of the Seoul Philharmonic Orchestra between 2007 and 2015. In 2001, he won the first prize in the violin section of the 1st Sendai International Music Competition. Among all of the contestants who have placed in this competition, Mr. Roussev has been perhaps the most musically active performer in Japan. He came to Japan last October to perform in the Sendai Classical Music Festival of 2015. The interview by Ms. Michishita took place in October after Mr. Roussev had returned to Japan to perform in that festival.
Did winning the 1st Sendai International Music Competition change you personally, or your performing career, in any way?
Yes, it certainly did, in many ways. First of all, winning the competition gave me more confidence as a performer. Musicians grow through practicing every day; however, winning a competition means a lot to us because it gives us personal verification that we are heading in the right direction. This was especially true in my case, since I received encouragement not only from participating in the competition itself but also from the people of Sendai who gave me so much support. I should also point out that, for musicians, winning a competition is encouraging in a very special sense. This is because, unlike other activities, like sports, where athletes compete within established parameters, music is not something that can be objectively measured. Of significant benefit to me personally, as a result of the Sendai competition I have had several opportunities to perform in Japan, one of which was a concert I gave with Maestro Yuzo Toyama in Tokyo, which turned out to be a major stepping stone for me in that it led to even more musical activities in Japan.

Winning the Sendai International Music Competition also led to the opportunity I was given to serve as a jury member at the previous competition here. This was truly a valuable experience for me and played an important part in the development of my musical career. I should also mention the fantastic memories I have of the hall, the thrill of being able to perform with the great orchestra in Sendai, the warm audience, and finally of the people with whom I have been able to build relationships through participating in the competition. As a matter of fact, I was able to see some of those people again today. Although 15 years have passed since the competition, there remains a special place in my heart for the people of Sendai. Needless to say, the competition was an invaluable experience for me.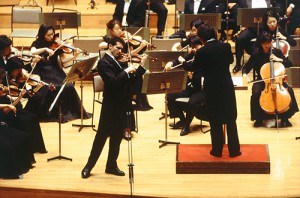 You have returned to Sendai numerous times since your initial participation in the competition in order to perform in concerts and to serve as a competition jury member. Is there anything special that comes to mind when you think of the city of Sendai?
First of all, to me, Sendai is the perfect environment in which people can live; the city is neither too big nor too small. It is also easy to get around in the city. I remember times during the competition when I would jog along the Hirose River, which happened to be close to my hotel. Several parks were close to the river and I thought all the greenery was so beautiful. There are also many delicious restaurants. The city is readily accessible by plane or bullet train, and it has a very dependable urban transportation system. The subway line that runs right through Sendai is convenient for traveling within the city. Another thing I like about Sendai is that it is home to the Sendai Philharmonic Orchestra. In truth, there is so much about the city that I find attractive that I envy the people who are fortunate enough to live here!
Could you tell us about your experience of serving as a jury member for the 5th Sendai International Music Competition?
In the elimination round, I played one of the J.S. Bach Violin Concertos and was accompanied by a string quartet in place of the usual orchestral accompaniment. The string quartet played wonderfully, and it wasn't necessary for me to take charge in any way, so I could fully focus on my performance. There was also a great repertoire with mainly concertos which is very unique. The different styles made it possible for contestants to demonstrate their abilities to perform in various musical situations, and to show how well they could communicate with other musicians on stage. Even though I only had one short rehearsal before elimination round, I felt the performance went well. After passing to the semifinal, Shostakovich's Violin Concerto No. 1. was my choice. In truth, I had barely practiced the piece before the competition and, as a result, I had to learn most of the concerto during the competition. I was only able to hear a few of the other contestants' performances, but I knew and also heard that the level of playing was extremely high – both technically and musically. I would also like to point out that the competition was run according to schedule and that there were no problems at all.
Could you tell us about your experience of serving as a jury member for the 5th Sendai International Music Competition?
The performance conditions, the accommodations, and the general environment provided for the contestants, as well as the way in which the competition was run, were all top notch in the 5th competition as well. The contestants performed at a very high level! Some of the jury members with whom I was able to speak were renowned teachers who had developed many gifted and talented young musicians. The competition (violin section) activities took about two weeks, during which time I also participated in excursions, concerts and a masterclass.
For me it was an enjoyable opportunity to meet the young people who will be the next generation of musicians.
Speaking of teaching, you are the teacher of Mr. Tatsuki Narita, who placed second in the 5th Sendai International Music Competition. What are your thoughts regarding his growth as a musician?
Tatsuki has grown remarkably. He was still young at the time he entered the Conservatoire de Paris but I have been amazed how much he has grown as an artist. We have played together at different occasions and I am always happy to see how well he is progressing. Since always he had a large repertoire, solid technique, and he brings a very high level of sensitivity to his performances.
The 6th Sendai International Music Competition will be held next year (2016). Do you have any advice for musicians who will be entering that competition?
Although these words are not meant to apply only to the Sendai competition, my first piece of advice to anyone preparing for a competition would be to prepare thoroughly and also to enjoy the challenges of the competition. Also, since the Sendai competition is so well run, contestants can take comfort in knowing that they will be able to perform without experiencing extra stress. Good management of a competition is essential if contestants are to be able to participate in a relaxed state of mind. For example, the Sendai competition is perfect in that contestants are able to know the schedule well in advance. That being said, preparing for a competition is always stressful and contestants can lose their confidence. Therefore, it is important to have the satisfaction of the job done well during the process of every day practice. One should also remember that performing well is not enough. We must constantly push forward and take on more and more challenges in order to improve and do better.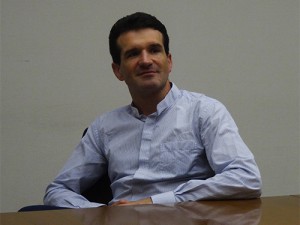 You are currently teaching musicians of the next generation at the Conservatoire National Supérieur de Musique et de Danse de Paris, you also serve as concertmaster both for the Orchestre Philharmonique de Radio France and the Seoul Philharmonic Orchestra. This means that you are also performing a lot in addition to your teaching activities.
Although I perform in many concerts, I feel that my performance activities are well-balanced. By that I mean that I perform an equal amount of chamber music, solos, and orchestra concerts. It is very important to have this kind of balance. By playing in orchestras, I get to meet great conductors, such as Maestro Myung-Whun Chung (former Music Director of the Orchestre Philharmonique de Radio France) on an almost daily basis. This makes it possible for me to deepen my knowledge of repertoire and is a tremendous enrichment. Furthermore, my activities as a soloist are very fulfilling for me personally.