Interviews
Interview with Ms. KIM Bomsori
5th Prizewinner of the Violin Section at the 5th SIMC
Interviewed by: KOHSAKA Haruka (Music writer)
interviewed : 20141004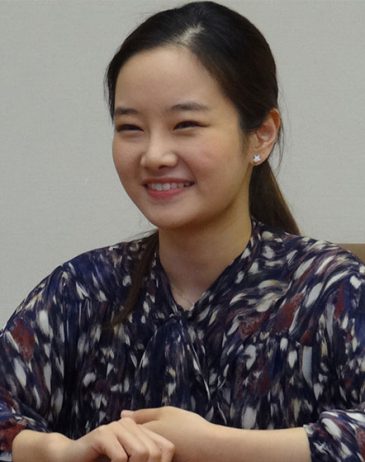 Ms. KIM Bomsori won a prize in the Violin Section as the youngest participant and also received the Audience Prize at the 4th Sendai International Music Competition (SIMC) in 2010. At the 5th Competition in 2013, she also won a prize and received the Audience Prize, gaining popularity with the audience in Sendai. In Europe, she won the top award at the ARD International Music Competition in 2013 and is advancing in her international career. She began studying at The Juilliard School in New York this year and has just started her new life. I interviewed her when she came to Japan for the Sendai Classical Music Festival.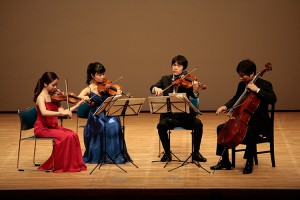 You gave performances in various styles of duo, piano trio and quartet at Sendai Classical Music Festival this year. In the quartet in particular, the other three performers were all members of the Sendai Philharmonic Orchestra, who you played with at the Competition in Sendai.
Yes, I knew them personally, but it was the first time for me to play with them in a chamber music concert. They were very nice to me and I enjoyed performing with them very much, from the rehearsal to the concert. Now I have just formed a quartet at The Juilliard School, in which I am going to study from now. So to tell you the truth, this was the first time for me to play in a quartet in front of an audience. I have had several opportunities to perform in a piano trio before. For example, I played with Mr. SUNWOO Yekwon, who won the 1st prize in the Piano Section at last year's SIMC, in a piano trio when I was a junior high-school student. We were junior high-school classmates and are still good friends.
Why did you participate in SIMC twice, in the 4th and 5th Competitions?
It's difficult to try the same competition twice, so after due consideration, I decided to participate in SIMC for the second time. Because SIMC is very efficiently operated, and contestants can concentrate on their music without being distracted unnecessarily, I wanted to try it again. For example, Mr. Andrey BARANOV also participated in the 3rd and 4th Competitions in a row. This shows that the running of SIMC is excellent from the contestants' viewpoint.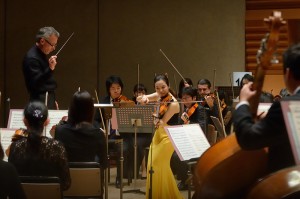 What do you think makes SIMC different from other competitions?
The biggest difference is that concertos are the assigned pieces from the Elimination Round to the final at SIMC. By performing many pieces with an orchestra in a short period of time, contestants can study how to balance with an orchestra and other things. I think that SIMC provided me with a wonderful opportunity to improve my ability as a musician.
Another difference is that SIMC contestants can stay at a host family's home after they finish all their performances at the Competition. There are many competitions where participants can stay with a host family even during the competition. But in Sendai, contestants can concentrate on their music during the time they are performing, and from the time when they cannot advance to the next round, they can stay with a host family and get to know Japanese culture. It's a very good system.
Anyway, I guess that the people of Sendai really like classical music. I was amazed to see so many people come to the venues to listen to the Competition from morning till night. That's to say I was very impressed with the fact that even though classical music is not originally from Japan, so many people eagerly came to listen to the Competition.
Among your memories of the two Competitions in Sendai, what struck you the most?
It's very hard to choose one…but I guess the Semifinal in 2010. For that Semifinal, the contestants were supposed to prepare two concertos and draw lots to decide which one they would perform. I prepared Sibelius's and Stravinsky's concertos. Both are very difficult works, but I wanted to play Stravinsky's with the Sendai Philharmonic Orchestra because I heard that it was a wonderful orchestra. Fortunately I drew Stravinsky and was really happy. Maestro Pascal VERROT knew the work very well, the Sendai Philharmonic Orchestra was wonderful, and I was really moved while performing on the actual stage.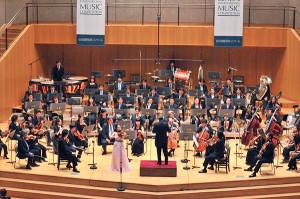 How is your experience of participating in competitions?
For musicians, competitions are very important occasions. Normally we rarely get a chance to perform overseas and cannot have the audience from around the world listen to our performance. I think that competitions are good opportunities to have a lot of people hear your performance. In addition, it's very important in terms of growing yourself to concentrate on music and practice many pieces in a short period of time. Because performers need to play various repertoire in many concerts, I think the experience of participating in competitions is, so to speak, the preparation period for becoming a professional.
I've heard that this is your fourth visit to Sendai. Have you ever been to other cities in Japan?
Actually, I haven't visited many other cities. I don't know why. Is it because I like Sendai? Ox tongue is delicious. [laughs]
Come to think of it, I've only been to Tokyo once. I belonged to the go club at Seoul National University and visited Tokyo on an exchange program with the University of Tokyo. It was in 2009 and my first visit to Japan. The game of go has been my hobby since I started playing around the age of eight.
In July 2011, immediately after the Great East Japan Earthquake, you visited Sendai to perform in school-visiting concerts and a concert with the Miyagi University of Education Symphony Orchestra. Please give your impressions at that time.
I felt very sad at the sight of the disaster-stricken towns. Sendai Airport and the hotel where I stayed during the Competition were also damaged by the earthquake. I came to Sendai feeling that I wanted to cheer the people of Sendai up with my performance, but actually I was the one who was encouraged by them. I still remember vividly being warmly welcomed and even given flowers.
I would like to ask you about your recent activities. I've heard that you began studying at The Juilliard School this year. How is your life in New York?
I just moved to New York this summer. It's my first time to live by myself, and even abroad, so I was looking forward to it very much and at the same time nervous about it. I had to look for a place to live by myself, furnish it, and so on. There was so much to do. Fortunately, I have some friends in New York and they helped me, so now I am living very comfortably. Though it's a bit hard to follow classes in English, which is not my mother tongue.
The Juilliard School is located in the same building as the Lincoln Center for the Performing Arts, and the environment is also wonderful. Because I live near the school, I feel as if I am living in the center of art. I can go to concerts and museums whenever I want to.
Now I am studying under Prof. Sylvia ROSENBERG. She is a very passionate musician, and her lessons are very exhilarating.
What do you place the greatest importance on in performing?
Focusing on composers and giving careful consideration to them, I think. I don't think it is important simply to know the composers' backgrounds, but it is very important to understand their style. I think that performers should be sincere toward music, and it's important to perform naturally without trying to do anything fancy.
What made you decide to study in New York?
Due to my experience of participating in competitions in Europe, I have a large circle of acquaintances there. I have performed at the Berlin Philharmonie and the Musikverein Wien, and there are many people who know me in Europe. On the other hand, I have few contacts in the U.S. I think it would have certainly been easier to study in Europe, but I wanted people in the U.S., which is a new place for me, to know what kind of musician I am, so decided to study in New York.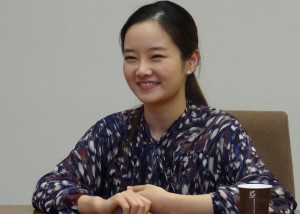 Do you have any message or advice for people who are hoping to participate in SIMC in the future?
The Competition in Sendai is perfect, and you can simply concentrate on the music. There are no negative elements at all. You can perform with an orchestra many times, which will provide you with good experience. I also think that through performing in front of many classical music lovers in Sendai, you will be inspired and learn a lot. I highly recommend participating in the Competition in Sendai.