Interviews
Interview with Ms. MATSUYAMA Saeka
1st Prizewinner of the Violin Section at the 2nd SIMC
Interviewed by: KOHSAKA Haruka (Music writer)
interviewed : 20141004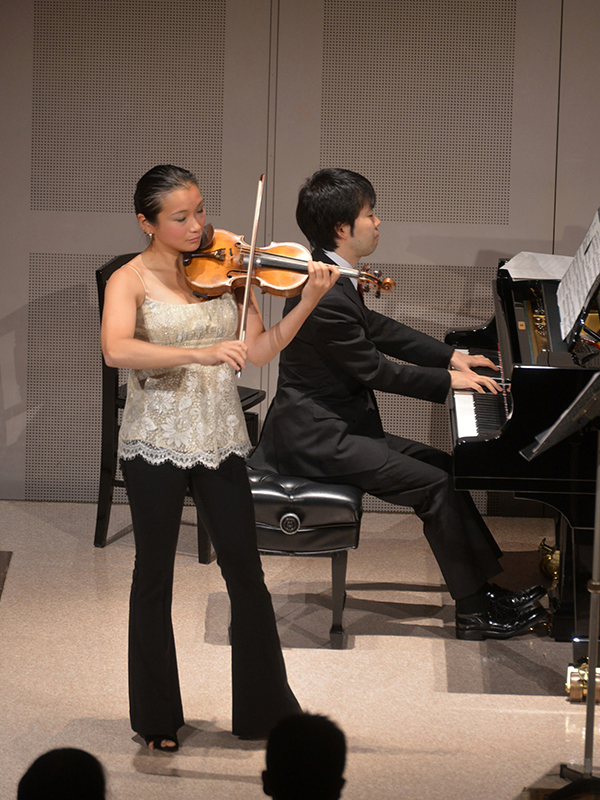 Ms. MATSUYAMA Saeka won the 1st prize in the Violin Section at the 2nd Sendai International Music Competition (SIMC) in 2004. Then, after winning the 4th prize at the Queen Elisabeth International Music Competition of Belgium in 2005, she has been making a spectacular showing in various fields at home and abroad. She began studying in New York at the age of nine and still lives there. After winning the 1st prize at SIMC, her performance opportunities in Japan have dramatically increased, and she often comes to Japan. She also appears on stage at Sendai Classical Music Festival every year and gives a performance that is making steady progress year after year.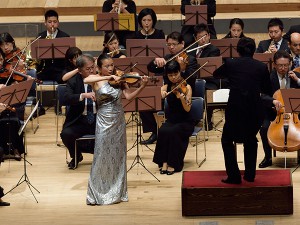 Ten years have passed since you won the 1st prize at SIMC. What was the significant incident for you during the decade?
It is when I started receiving management services. It was a very big event for me, to have someone backing me up as a performing musician. Winning at SIMC has made my long-held dream come true. This is one of the major points where I think I was right to enter the Competition.
Is there anything that stands out in your memory among the events during the Competition in Sendai?
During the Competition, I locked myself in the hotel room practicing every day. It was May—and isn't that the time of the Sparrow Dance? Oh, it's the "Suzume Odori" Dance [in the Sendai Aoba Festival], isn't it? [laughs] I remember well that I was playing the violin while watching the procession of that beautiful dance through the window.
I also remember well the host family volunteers taking me out for dinner and inviting me to their home. Since they had cats, I really enjoyed spending as much time as I could with them during the Competition. [laughs]
I know you have entered many competitions. What makes SIMC different from the other competitions?
It may feel different to me because I participated in the International Tchaikovsky Competition for Young Musicians that was held in Sendai when I was fifteen, but I also think SIMC has a very homelike atmosphere. From back then, I had the impression that there are a lot of good food in Sendai, and that it's a very beautiful city. The streets of New York where I have been living are completely gray….
What made you decide to participate in SIMC in the first place?
At that time, I was studying with a focus on concertos. So I thought that I would miss a good chance if I didn't participate in this competition, where contestants can play concertos as many as four times in total, and applied for it immediately. There are not many chances for young musicians to play with a professional orchestra and a conductor free of charge. I really believe it is worth participating in SIMC. Moreover, in my case, because I diverted my prize money to my rent, my living expenses, and my school expenses, in that context, it was significant for me to participate in the Competition.
It takes courage to participate in competitions. But once you decide to participate, I think it's important how you will apply the experience of performing on stage in front of people even one time, the feedback that you receive by performing with a pianist, and the comments from the judges to your future.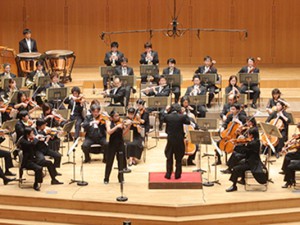 Although contestants do not always get the results that they want in a competition, how should they overcome these hurdles?
I used to cry my eyes out and overcome them by blaming others for the result, saying "the Judges were wrong! I definitely performed well!" [laughs] Then, even if I feel really frustrated, I will forget about it in the course of time and apply for another competition again. I think we all feel frustrated at disappointing results but we must overcome them somehow.
Compared with the way you were 10 years ago, do you feel you have changed?
I hope so. [laughs] At that time, I was still a student and entered one competition after another. Now I feel that I have a stronger sense of professionalism. Otherwise, I would be wasting the time of the people who came to hear my performances.
I also think that I was pretty fearless 10 years ago. Even for concertos, I played energetically without restraint. Now I can think about the music more deeply, and after experiencing actual stages again and again, I have developed the ability to listen to the sound of an orchestra well.
With regard to concertos, do you think that it's important after all to have a lot of experience of performing on stage?
Yes, I do. Even when I play the same piece, when I discover something new, I want to try to play it on stage and want the audience to listen to that point. Partly due to tension, your actual performance rarely works out exactly like the rehearsal. Sometimes I try to think as positively as I can and try to do something different on stage.
You get nervous easily, don't you?
Yes, I get very nervous. My heart starts pounding, but I can't do anything about it. So I have no choice but to wait until I get my breath back with time.
I think that you have visited Sendai many times since the Competition. Do you have anything that you always do when you come to Sendai?
I always eat Gyu Tan (grilled sliced beef tongue). And I am going to buy some Japanese sake made in Miyagi Prefecture this time. And mayonnaise. I once gave my husband certain Japanese brand's mayonnaise, and he loved it so much that he gets angry if I don't bring it home whenever I come to Japan. Though this has nothing to do with Sendai. [laughs]
And because I like oysters very much, I want to visit Matsushima. I wish someone would arrange a concert in Matsushima!
Readers of this interview may try to arrange concerts for you, so I will make sure to write your request clearly. By the way, are there any composers you have been working on recently with particular interest?
Thomas ADES, an English composer. His violin concerto sounds like fireworks from the beginning and is a lot of fun. Although I have performed it on stage just twice, I also want to perform it with various other orchestras. [Note: Ms. MATSUYAMA performed this work with the Tokyo Symphony Orchestra first in Japan in 2008 and replayed it with the Nagoya Philharmonic Orchestra in 2011.]
Now I am very interested in modern works. Intricate rhythms are like puzzles, and I need to use my brain a bit differently from my usual performances. As these modern works have not yet been performed many times, I feel that I can play them as I like, adding my own color, and it's a lot of fun.
Are there any performers whom you have recently performed with and who have inspired you?
Mr. TSUDA Yuya, whom I often play with. He is studying in Berlin, so he has many different opinions from mine and inspires me. Basically I never say "No" when co-performers make a suggestion. I accept it first and give it a try because I may be able to discover something. Of course, there are cases when I find that it doesn't work out.
Anyway, Mr. TSUDA has a nice personality and always laughs no matter what I say to him. I wonder how he can keep company with me. [laughs]
Also, I still occasionally take lessons from Prof. Ronald COPES under whom I studied at The Juilliard School, and it's a great incentive for me to hear him say that there are certain colors in certain points.
What do you place most importance on in playing the violin?
Now it's breathing. What I have on my mind changes, such as vibrato and fingering. I set small goals on a moment-to-moment basis during practicing and clear them.
And what is your ideal sound?
My favorite sound is that of Mr. Arthur GRUMIAUX. It's very sweet, and at the same time, I feel that it sounds like a tone of whole truth. I also like the sound of Mr. Itzhak PERLMAN, because I feel uplifted while listening to it. Don't you think that the sound tells a lot about a player's character? It's really strange. I think that musical instruments are like magic boxes.
You have been living in New York since you were nine. Do you ever feel you really benefited from being educated in New York?
It may be due to my personality rather than the fact that I grew up in New York, but I'm always positive. But no matter how confident I am about myself, I sometimes feel fear. Even so, I have the idea somewhere in myself that even if I get lost, I will be able to find my way to the goal eventually.
By the way, what kind of child were you?
Well, I think I was sort of meek as a kid, but I became a contrary person before I knew it. [laughs] When I am told by someone not to do something, I want to do it. Take Swan Lake as an example—I used to love the swan princess, but I later came to love the black swan more.
In your interview a few years ago, you said that you had not yet made up your mind to become a violinist. Have you made up your mind now?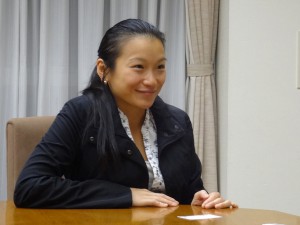 Oh, I've already made up my mind. [laughs] I finally came to feel pride in my career as a violinist only recently. I think that along with that, my performance has also changed in a good way.
I want to give a performance that you can hear at ease. Although sometimes I still feel unsure, I want to believe in myself more than anything. I want to be able to show my music as it is.
Finally, please give some advice to people who are hoping to participate in SIMC in the future.
In Sendai, people are nice and friendly, and the streets are very beautiful. The Competition staff is well-prepared to run the Competition perfectly, and there are also volunteers who support you, so all you need to think about is going on the stage. It's a wonderful atmosphere.
Especially in May—you can also see the "Suzume Odori" Dance, and it's a very good season. You'll definitely enjoy it.