Interviews
Interview with Mr. NARITA Tatsuki,
2nd Prizewinner of the Violin Section at the 5th SIMC
Interviewed by: MASAKI Hiromi (Music Journalist)
interviewed : 20140708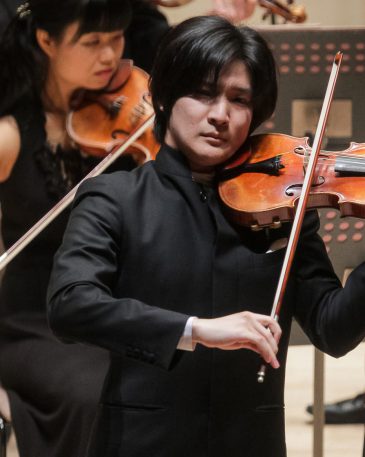 NARITA Tatsuki, who had won 2nd prize at the 5th Sendai International Music Competition (SIMC), visited Sendai in July to perform a concert commemorating the city's 125th anniversary and concerts at elementary and junior high schools in the city. His winning the prize at the SIMC led to realization of these concerts. He performs the concerts while going back and forth between Paris and Japan. This concert was his first to be performed in Sendai in nearly a year, and he showed his musical progress since the 5th SIMC. I interviewed him to ask about his current activities and the Competition in Sendai.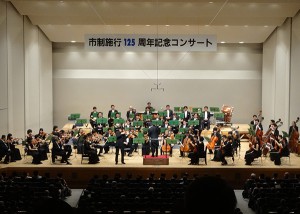 You studied at the Conservatoire National Supérieur de Musique et de Danse de Paris until February to March 2014. After that, you have performed concerts, though still being based in Paris?
When I first went to Paris, I studied at Conservatoire Maurice Ravel Paris 13. Since then I have studied under Prof. Florin SZIGETI. When visiting his house sometimes to take lessons even now, I talk with him about various things such as music and life. I have also received private lessons from Prof. Jean-Jacques KANTOROW for years. Before a concert, we often discuss the music while looking at the score. His instruction doesn't change my performance completely; rather, I should say, he adds spice to it and respects my individuality.
In Japan, one-way teaching from instructors to students is sometimes seen. This kind of instruction method may also be felt from one's performance in competitions. The lessons you have received seem different from such style of instructions.
It depends on whether a student can convey his/her own ideas or not. Getting one's ideas across to an instructor could make a big difference. In French, the phrase "study under" is expressed as "on travail avec~", which means "I practice with~". The words imply that the instructor stands at the same position as the student, which is different from the connotation of "study under" in Japanese. The difference in the words might suggest different styles of instruction.
This time you performed a concert at Sanezawa Elementary School in Sendai. It was impressive that you made active efforts through music by having children sit close by. Before your performance of the Fugue from Bach's Sonata No.3 for Solo Violin, you tried to explain the piece by comparing its theme to the melody of London Bridge is Falling Down, a British nursery rhyme, and you also attracted children's attention by showing a copy of the Bach's manuscript score.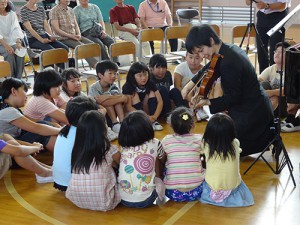 Bearing in mind that the children came to the concert with interest to some extent, having them closer to the musician allows them to see the instrument more closely and feel a more realistic sensation. To keep in mind that there are various ways to play music for children, would enlarge the possibilities. When I took a violin lesson in a Master's class with Prof. Leonidas KAVAKOS in Athens, Greece recently, I had my performance on Bach's Sonata No. 3 heard. Until then I hadn't valued the historical background or styles, and just played a piece of work in a unilateral way. The lesson with him drastically changed my perspective of music as a whole, and made me feel much more familiar with Bach. I wanted to bring the essence of music that I learned from the professor to children, which led me to play the Sonata No. 3 at Sanezawa Elementary School. When I decided on the program for the concert, some had the opinion that it was difficult for children. However, as one child said, "it turned out to be an interesting program due to various melodies heard in the fugue." I was very happy to hear such a comment, and glad I did it.
I was honestly astonished that children accepted a work of Bach that would be considered abstruse even for adults. Your winning the prize at the 2013 SIMC led to concerts at schools and the concert commemorating the city's 125th anniversary held the previous day. Would you please tell me anew about your impressions of the SIMC?
I played a Szymanowski concerto in the Semifinal, and a Brahms concerto in the Final Round. Every time I played both concertos, it seemed to me that there were many people who came to the concert with an open mind and were ready to accept the music. So I felt very comfortable playing. Feeling pulled by the spirit of the audience, I, the player, also tried to play the best I could at every moment.
You won the 2nd prizes at both the Concours international Marguerite-Long-Jacques-Thibaud and the Queen Elizabeth International Music Competition of Belgium. Comparing the SIMC with these international competitions, do you feel any differences, such as the atmosphere?
Volunteers in Sendai are really nice. When I asked the way to the place I wanted to go to, the people of the city were kind enough to show the way using a map with their hands made by volunteers. Among the international competitions that I have participated in so far, the Queen Elisabeth Competition was known to whomever you met because it was hosted by the entire town and country. Similarly, in Sendai the SIMC was also known to many people including taxi drivers. The place where every citizen knows the competition is a good environment for players.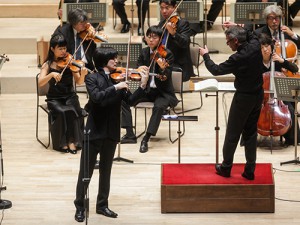 Why did you participate in the SIMC?
One reason was that my relatives living in Aomori and Akita were able to come and hear my performance. Another reason was that the repertoires were so attractive that I wanted to play the Brahms concerto for the final. It was my first time to play Brahms. In that respect, I regretted not having worked harder than Richard LIN. The largest number of times I have played a concerto was one by Sibelius. The second is by Mendelssohn or Paganini. I have played Tchaikovsky's concerto only three times.
How about the other repertoires?
I thought that the Mozart concerto in the Elimination round and Beethoven's Romance and Szymanowski's concerto in the Semifinal round were useful for expanding one's repertoires. Especially I love the chaotic feel of Szymanowski's concerto which resembles the atmosphere in Paris. Szymanowski's music made us feel the background of the decadent period, from Brahms to R. Strauss and Wagner, followed by Schoenberg, who reached the sound of contemporary music. It was wonderful experience to play his Concerto No. 1. as a soloist in the concert. Besides, there is little opportunity to play No. 1. The contents of repertoires are very important for me when I apply for a competition. I choose competition that has repertoires I think I would be able to play then. If the repertoire had been a concerto that I wasn't sure if I should try, such as Schoenberg, I would not have applied for the 5th SIMC.
Tatsuki NARITA continues to confront himself. So every time he plays we are able to listen to his renewed music. There are various classical music events held in Sendai, including the concerts at which he played this year, and the Sendai Classical Music Festival, which has now become an autumn feature in Sendai. Now that we saw that he has progressed in attracting people to his music, we look forward to seeing exchanges between him and audience members through music at events in Sendai.