Interviews
Interview with Mr. Vyacheslav GRYAZNOV,
6th Prizewinner of the Piano Section at the 3rd SIMC
Interviewed by: MASAKI Hiromi (Music Journalist)
interviewed : 20140705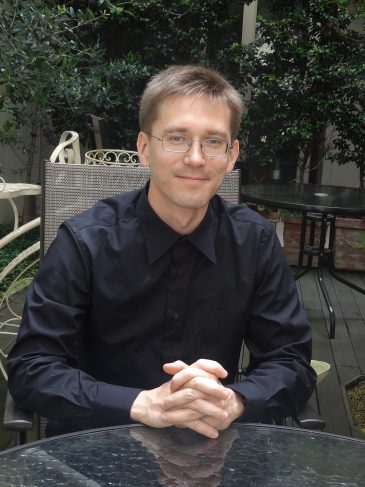 At the 3rd Sendai International Music Competition, Mr. Vyacheslav GRYAZNOV won the sixth prize in the Piano Section. During his stay in Japan to give piano lessons at KURASHIKI SAKUYO University, in July 2014 he visited Sendai, where he gave a concert and held an open class for local students learning music as well as participated in a study workshop for volunteer staff of the Sendai International Music Competition. Among the pieces he played in the workshop were Rachmaninov's Morceaux de fantaisie Op. 3 and Italian Polka arranged by himself. Currently he is teaching at Moscow P.I. Tchaikovsky Conservatory and the other school, while giving various performances. He has a diverse approach to music, both as a player and as a teacher. We asked him about his current activities and competitions.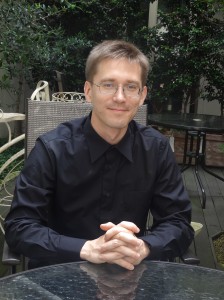 People in Japan might remember you from the NHK BS program "Hi-Vision Classic Club" in 2004 where you played the piano, which was repeatedly broadcast. About seven years have passed since you participated in the Sendai International Music Competition. Please tell us about your current musical activities.
I am a soloist of Moscow Philharmonic Society and play recitals and performances with orchestras all over Russia and in other countries. I am also teaching at the Moscow P.I. Tchaikovsky Conservatory in Russia and KURASHIKI SAKUYO University in Japan. There are also quite unique and original projects, for example, I recently took part in a piano quartet concert with four pianos at Tchaikovsky Concert Hall, which was organized by a well-known Russian pianist Alexander GHINDIN. The music was arranged by my friends Alexey KURBATOV, Nikita MNDOYANTS (he is one of the finalists in the previous Van Cliburn International Piano Competition) and me. For this event I prepared and arranged the Suite from the opera The Legend of the Invisible City of Kitezh and the Maiden Fevroniya by Rimsky-Korsakov. I am giving much weight to the arrangement. My piano transcriptions are now being published by German publisher Schott-music. Two new CDs with my transcriptions including Tchaikovsky's Romeo & Juliet and Debussy's Prélude à l'après-midi d'un faune are scheduled to be released in Russia.
What do you think of competitions in general both as a player and as an instructor?
Ideally speaking, competitions should be a place where contestants can demonstrate their ability and quality of their performance to become professional. Successfully attracting the attention of a manager and producer at a competition can pave the way to becoming a high-demanded musician. In fact, there are some young pianists who participate in competitions to earn prize money, but perhaps it is because they have fewer opportunities to give concerts as a soloist. Continuing to play in a competition and playing in a concert as a soloist are two different things.
In what way?
In a competition, contestants are required to show jury members that they can advance to the next stage by playing in a standard way in a short, limited time, so their individuality and originality might not be appreciated. By contrast, the audience at a concert may want to appreciate a player's attractive aspects, unique viewpoint and interpretation of music.
Why did you participate in the Competition in Sendai?
Because I liked piano concertos as assigned repertoires. In the Competition, Contestants are required to play various concertos including those by composers of the classic and romantic schools. In particular, I wanted to take the opportunity to play concertos with a full orchestra or a quartet. At that time I had not so many opportunities to play with an orchestra as I wanted. Even students of Moscow P.I. Tchaikovsky Conservatory rarely play with an orchestra, except when their instructors invite them to play. Before the Competition I tried to create an opportunity to play Beethoven's Piano Concerto No. 4 with an orchestra in preparation for playing it in the Final Round. I also asked my friends to organize a quartet to practice playing Mozart's Piano Concerto K449 with me, which I played in the Elimination Round. Competitions require such preparatory work. Thanks to winning the 6th prize in the Competition, I was invited by Sendai City to play Rachmaninov's Piano Concerto No. 3 with the Sendai Philharmonic Orchestra.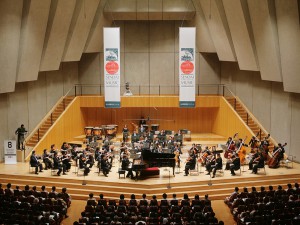 You mean that you can benefit from the result of a competition and also the process of preparing for it?
Yes, that's right. Participating in a competition brings many benefits to contestants. Any competition will bring benefits, but especially those that involve many selection procedures increase the contestants' power of concentration, which, of course, should be improved by preparing before the competition, not during the competition. Another benefit is changing how you perceive music through communication with the conductor.
I heard that you have kept in touch with volunteers you met during the Sendai International Music Competition.
In Sendai I interacted with other contestants, and I still keep in touch with my host family. The Competition enables contestants who fail to advance to the next round to stay with a local family if they wish, while those who make it to the final stay at a hotel until the end of the Competition. Nevertheless, the host family members came to the venue and encouraged the contestants every time the result of each round was announced. The volunteers' support was amazing.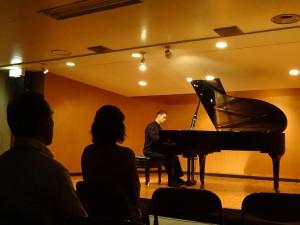 Mr. GRYAZNOV continues to stay in touch with the many people he met in the Competition, and often visits Sendai. After the interview, he said, "I would really like to play in Sendai again." With such commitment, he will no doubt bring Russian pianism to Japan by giving performances and teaching.
Official Website: www.gryaznoff.com